New bike, new me
The Peugeot is dead, long live the Peugeot.
Okay it's not dead, the frame is intact, all the individual components are working. But I got a new bike frame, and so it bravely sacrificed itself so that I could build my new bike.
Enter, the Raleigh: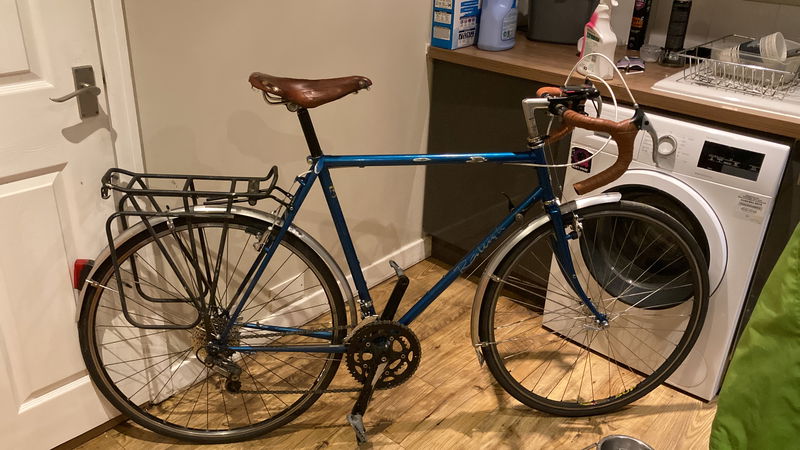 I managed to pick up the frame for an absolute bargain. It's a 1994 Raleigh Randonneur touring frame, made with Reynolds 708 Touristique tubing. They only made them for about 3 years in the mid-90's, so they're relatively uncommon. But, it's a really light, responsive frame, and it's had a few positive comments in the bike shops I've been to with it since building it.
For now, I've put the components from the Peugeot on it - Simplex 6spd rear derailleur & 2spd front, downtube friction shifters, Weinmann brake levers. The brakes themselves are cantilevers I stole from an old mountain bike in my garage.
Next on my to-do list is to replace the groupset - I've got a spare 8spd Claris set that will work nicely for now, including drop-bar shifters. But in the longer term I think I'd like to go up to a 10-or-11 speed groupset, which will be nice for if & when I can do some touring.
It also needs powder coating, there are some patches of missing paint where some surface rust has been scraped off. In the interim I'm probably going to put something over those patches to prevent new rust forming. Originally I'd planned to get it painted a glossy red, because I always think that looks slick, but after reading into the history of the frame I'm going to restore it to original condition. Raleigh only used this shade of metallic blue for this frame, it deserves to be kept intact.