Part 4 (already??)
A few parts arrived yesterday simultaneously, so of course I had to fit them immediately.
Brakes
I managed to pick up some Shimano RX-100 brakes from someone I know, which are replacing the ancient Weinmann ones on there now; I'll appreciate the extra stopping power come winter. I actually only managed to replace the front brake calliper. The bolt on the rear calliper is too short to make it through the frame, so I'm going to have to source a longer bolt for it.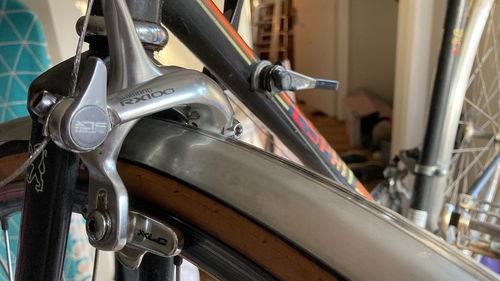 Handlebar Tape
The orange bar tape I'd originally put on the bike was looking extremely filthy. That's the problem with lighter colours, especially when you're also still actively working on the bike. It got stained with dirt and oil, and no amount of washing could get rid of it.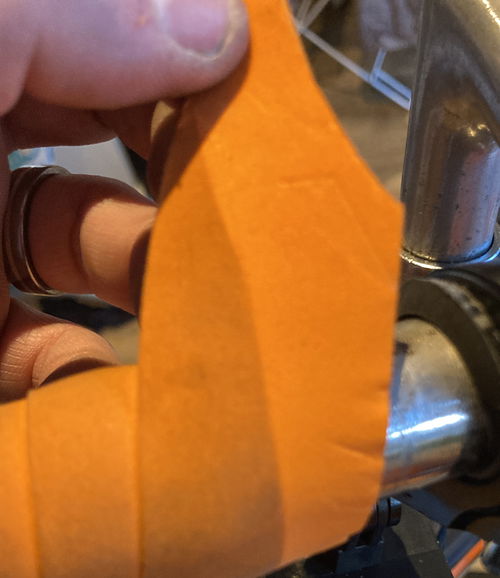 So I decided to replace it with some Honey Fizik Bondcush classic. It's comfortable as hell, and I think the colour matches the style I'm going for.
Replacing the tape was a faff. It's only the second time I've done it, so it's a far-from perfect job (and I'll likely have to do it again in the near future). But as a friend pointed out, I could have this bike another 5 or 10 years if I look after it well, I'll probably replace the handlebar tape 20 more times. So no sweat.
To be continued
And here's where we're at so far:
As a reminder, here's what it looked like when I bought it: