The other bike
The Peugeot of course isn't my only bike. I've also got a Specialized Allez, which is the bike I ride when I want to go quickly, or long-distance (but never both). It's a great-looking bike, but unfortunately right now it's very worn out.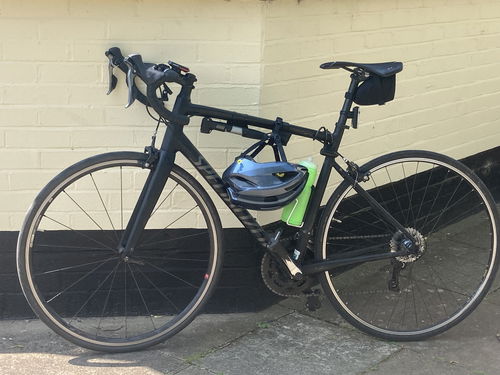 I got the bike from an extremely-generous friend who gave it to me when he found out I was commuting 100 miles a week on a terrible hybrid bike. Honestly I blame him for my obsession, I'd probably have stopped riding now if I'd had to stay on that hybrid.
When I got it, it had already done some 4000 miles. Since then, I've probably done another 5-6000 (I cover ~4000 miles a year just commuting). I've done some really long rides, and it's never once been unridable on them. Considering it's the entry-level model, it's been incredible. Considering it's the low-end 8-speed Shimano Claris set, the fact it's covered ~10,000 miles with no major failures is impressive.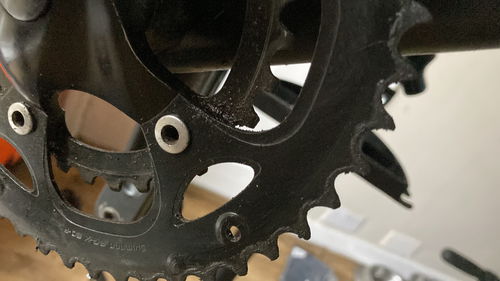 But the entire groupset is completely worn-out. The rear derailleur is seized, and the left shifters are gummed up. I've replaced almost everything else at this point, but I've decided to put an entire new groupset on the bike.
I've started picking up parts, my local branch of Cyclists Fighting Cancer have a big parts bin, and I was able to get a set of 11-speed Shimano 105 shifters and a rear derailleur. All I need now is the front derailleur, new cassette, and a crankset and I'm good to go. I'll also keep a lookout for a new set of rim brakes, because my Tektro ones are also getting a bit worn (and I'd like a full 105 set, really).
So once all that's done, hopefully this bike will be able to do another 10,000 miles - I really do love it, I'm yet to find another bike that I think would be a good enough replacement.